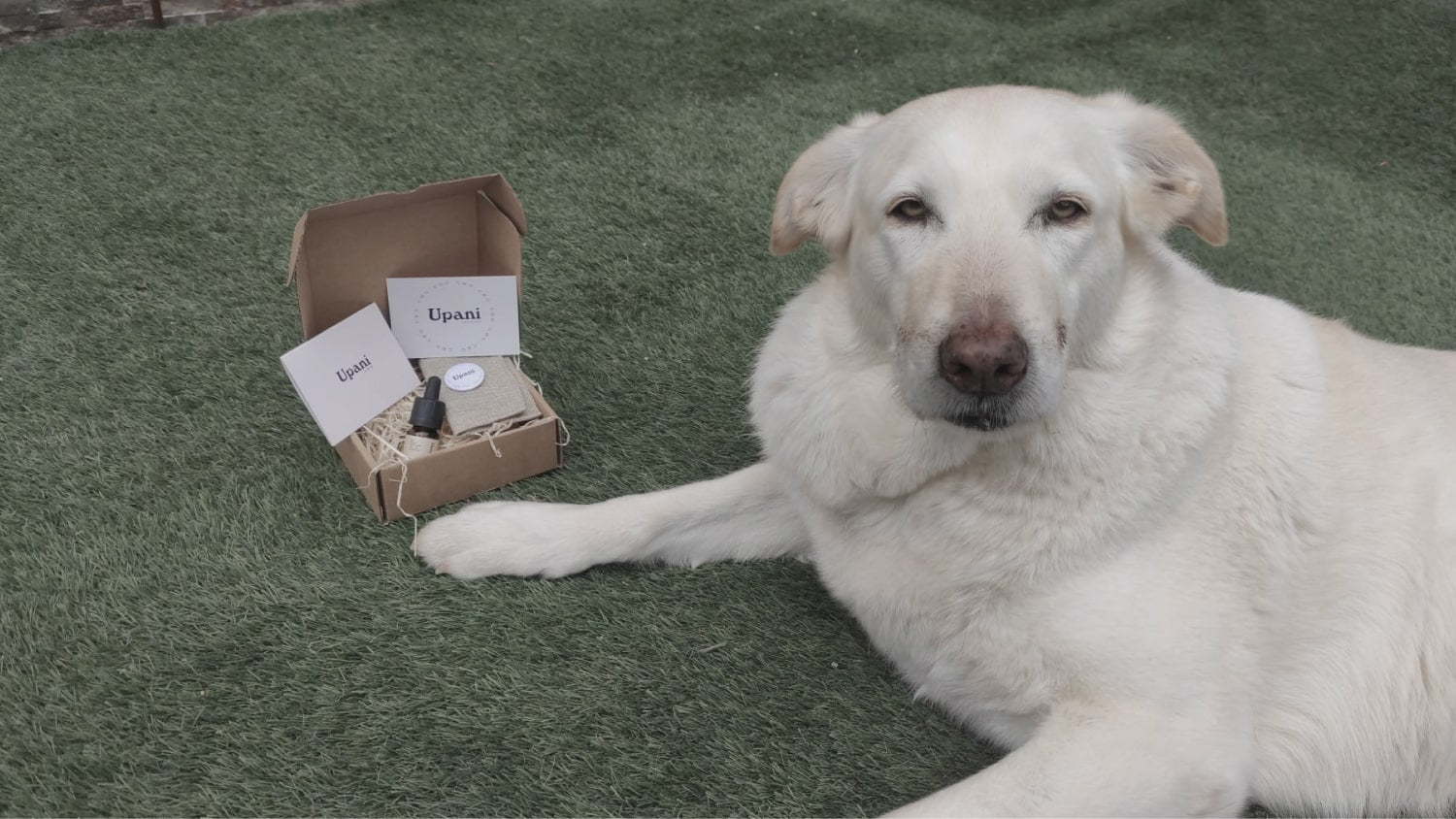 There is only one thing that can make us more excited than your experience, and that is that it be shared with your friends and family.
In this month's interview we have a client who tells us about how she started using Upani and why now her partner and dog also use it. Marta and her family are the perfect example of the phrase that we have been using since we began this adventure: we must take care of each other.
I hope that everything he tells us is also useful to you.
Marta Sanchez and family
38 years
Knee pain, menstrual pain and migraines
To begin, could you tell us in a general way in what situation you were and are you?
My situation is that I have a degenerative disease in the knee, I have many problems due to the pain it causes me. In addition, I suffer from quite intense headaches, sometimes they become migraines and I also suffer from menstrual cramps.
Mainly the idea of using this product was for me to use it, but my partner suffered a cervical rectification, as well as two cervical hernias, and that made us consider trying it to see if we felt relief in both cases.
To all this we must add that we have a dog that suffers from osteoarthritis, and we wanted to help her to be more relieved. We later read that using the oil also eases the stress of firecrackers and fireworks, so all of this helped us make the decision to try something that would work for all of us.
Since when do you know CBD oil?
We heard about the use of CBD oil about a year and a half ago. We are not very supportive of taking medications continuously to relieve pain, so we prefer to look for another more natural option. We looked for information on the internet until we found opinions of people who used CBD oil, with very good comments.
Have you tried other brands before?
I had never tried any brand before.
What made you choose Upani?
Well, honestly, the first thing that made me opt forupani it was proximity. I wanted information before buying it, I saw that there was a center near my place of residence and I decided to go and ask for information. In addition, I have visited your Instagram profile many times, it seems to me that you explain it very clearly, I made inquiries byWhatsApp, and I have had a very fast and clear response. Customer service is very very good. I also found many options on how the use of oil can improve our lives, and once registered, I love the information that is sent very frequently via email.
How has your experience with us been?
As I said before, everything has been great: prior information, information once I have bought the product, queries with a very quick response... And the product has been a great discovery, it is helping us all to have better quality of life.
Why has Upani worked better for you than other things?
Well, the truth is that the effect is quite fast. It is not addictive so you can have good days when it is not necessary to take it, and bad days that improve when you take it. We have reduced the consumption of medicines.
What differences have you noticed?
The difference is that before I had to take many different medicines to relieve these pains and now with a few drops, Upani relieves those pains.
Buy Luna Creciente
How does Upani help you in your day to day with your pains?
For example, after working hours, many days we arrive exhausted, tired, in pain... Instead now, it's about getting home, taking a few drops, and relieving the pain. It relaxes you to be able to sleep much better, and to be able to get up the next day much better.
In the mornings, when I feel discomfort, I take a few drops and it allows me to go about my daily activities much more relieved.
And the dog when she limps, I give her a few drops before going for a walk and in a few minutes she looks like a new dog, I have to watch her because she seems to feel no pain and runs like nothing happened.
Have you noticed less menstrual cramps?
I usually havejoint pain very intense and the truth is that it does not eliminate them 100%, but it allows me to carry out my daily activity with slight discomfort. A welcome relief.
Does your partner, for cervical rectification and hernias, use it continuously or at certain times?
Well, the truth is that he has seasons that he suffers a lot of pain and makes continuous use. When he already has more relief, he switches to occasional use, but until now, after months of pain, he can lead a normal life, with almost no pain. So far it is the best thing that has managed to relieve pain.
Regarding your dog, how did you decide to give her Upani?
Well, the truth is, I follow a boy on Facebook who has an animal shelter in the United States with different races and ages. For a while now, I've seen you use theCBD oil with all dogs, which is legal there, until he has managed to make his own oil.
I was very interested, but I saw that here in Spain the issue is not the same as there. At first I thought I'd give the dog a try, but I wanted more information. Then I saw you on Instagram, and seeing everything that could be done, we tried to give it to him and the change was brutal. As we already had Upani at home, on New Year's Eve with the firecrackers he panics, and we had seen the guy on Facebook who used it to relax them, and we did it to try, and it was a very pleasant experience.
Have you noticed improvement with your osteoarthritis? And with the fireworks?
Yes, as I told you before, when there were fires or firecrackers, she panicked, she would spin nonstop, she didn't know where to go, she wanted to run away... When I tried it with her, now she sits down, hears the fireworks and stays our side. He is still a little nervous, but not much, his heart rate does not accelerate so much, nor does he have that obsession with running away.
Would you recommend Upani to your friends and family?
Well, I have recommended it to a friend who has a family member with fibromyalgia and wants to try it for pain relief. We have also recommended it to a relative, who has already bought it, because he has many neck problems due to posture at work and feels more relieved.